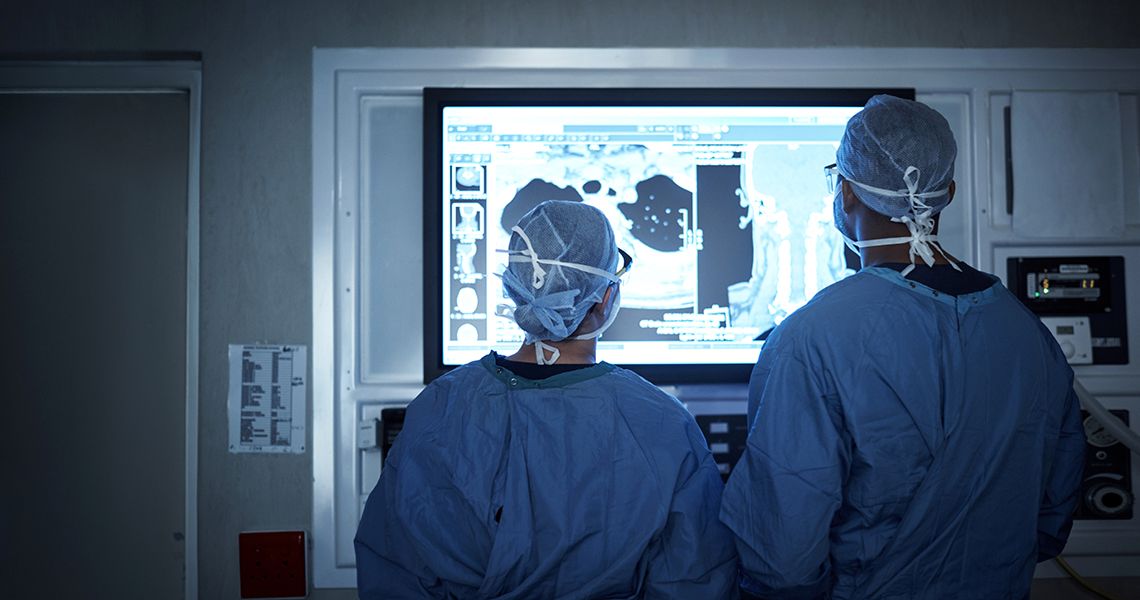 GW has one integrated interventional radiology position per year. The strength of our program lies not only in our breadth and scope of (IR) practice but also in our training of residents to be IR clinicians. Our division has a close working relationship with Interventional Cardiology, Cardiothoracic surgery,  and General and Vascular Surgery and also partakes in numerous multi-disciplinary conferences with them as well as Thoracic and Gastroenterology Tumor Board. The division performs a high volume of diagnostic and therapeutic procedures per year.
Overview
Interventional radiology residents have first-hand training in the work-up, diagnosis, and treatment of peripheral arterial and venous disease including thoracic and abdominal aortic stent grafts, limb salvage, and DVT thrombolysis. In addition to peripheral arterial disease, the residents have extensive exposure to percutaneous genitourinary procedures, biliary procedures, IVC filters, thrombolysis, venous access, embolotherapy, TIPS, aortic stent grafts, pain management, PE management, and interventional oncology (Y90, chemoembolization, ablation). We have two dedicated peripheral angiography suites and one biplane neuro interventional suite. The resident will also have dedicated time in pediatric interventional radiology at the world renowned Children's National Medical Center.
In addition to extensive interventional radiology exposure, the residents will have dedicated neuro-interventional time, which includes cerebral angiography, carotid stenting, and stroke intervention. In addition, he or she will become proficient in pain management as well as spine interventions.
Outside of the IR suite, the resident will have dedicated clinic time throughout the year. He/she will have time with each of our four full-time attendings in order to gain exposure to multiple facets of interventional radiology. On the floors, the resident will be expected to see consults, work them up, and formulate a plan.
The small number of residents combined with our large volume of cases ensures that the trainee will develop the experience, confidence, and clinical skills to become an IR clinician who will be successful in either the academic or private practice setting. Teaching is of utmost importance in our program and the residents are taught not only how to be technically proficient, but also the clinical and patient management aspects of IR. Since our division is a popular elective rotation for medical students, the residents are expected to not only teach but also to pass along their newly acquired knowledge to reinforce their understanding of disease processes and management.
Faculty
The true strength of the Interventional Radiology Division lies in its supportive and compassionate care that it provides to the patients of Washington DC. The IR division is home to outstanding clinicians, nurses, and staff from varied backgrounds and other prestigious institutions, including Dr. Anthony C. Venbrux (professor emeritus), a lauded teacher, pioneer, and noted author of Image-Guided Interventions, which is read by many interventional radiologists today.